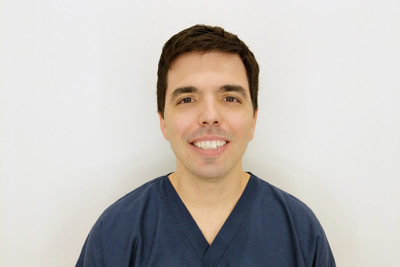 Dr. Vichot was born and raised on the Westbank of New Orleans. He attended St. Andrew the Apostle and Isidore Newman Schools before heading to Wake Forest University in North Carolina for his undergraduate degree. His love of science and animals brought him to Baton Rouge the following year where in 2007 he graduated from the Louisiana State University School of Veterinary Medicine. After practicing for one year outside of Charlotte, North Carolina, Dr. Vichot was eager to get back home and has practiced almost exclusively on the Westbank of New Orleans since 2008.
At Algiers Animal Clinic, where he has worked primarily since his 2008 homecoming, Dr. Vichot was able to dive into his passions by serving as the practice's primary surgeon and ultrasound diagnostician. Working full-time at such a busy practice, he was able to see a variety of cases in every field and learn techniques new and old from the numerous doctors employed there over the years. He also moonlights regularly at the Westbank Pet Emergency Clinic, where on occasion he will assist his own patients after hours. Side-jobs at the Chalmette Animal Shelter and Plaquemines Animal Welfare Society have also contributed to his medical and surgical skills.
In addition to surgery and ultrasound, Dr. Vichot enjoys seeing difficult medical cases. He has learned over the past decade that there are numerous ways to solve every problem, and he enjoys discussing this with owners in hopes of reducing their frustrations with successful outcomes!
Education
2003 – Bachelor of Science in Biology, Cum Laude, Wake Forest University
2007 – Doctor of Veterinary Medicine, Louisiana State University School of Veterinary Medicine
Memberships
American Veterinary Medical Association
Louisiana Veterinary Medical Association
Southeast Louisiana Veterinary Association
USDA-APHIS accredited